Welcome Home to Guidely
We can all agree that life takes us in many directions which can sometimes feel like a confusing obstacle. We at Guidely believe that the best way to navigate self development in life's journey is with the support of others, whether it be a guide or coach who's been in your shoes, or like minded fellow students of life to share the journey with. We want to help you find the self-help and individual counseling you need.
That's what the Guidely Community is all about: Providing you with motivational and personal development, along with self improvement, meaningful companionship, and guidance along the way.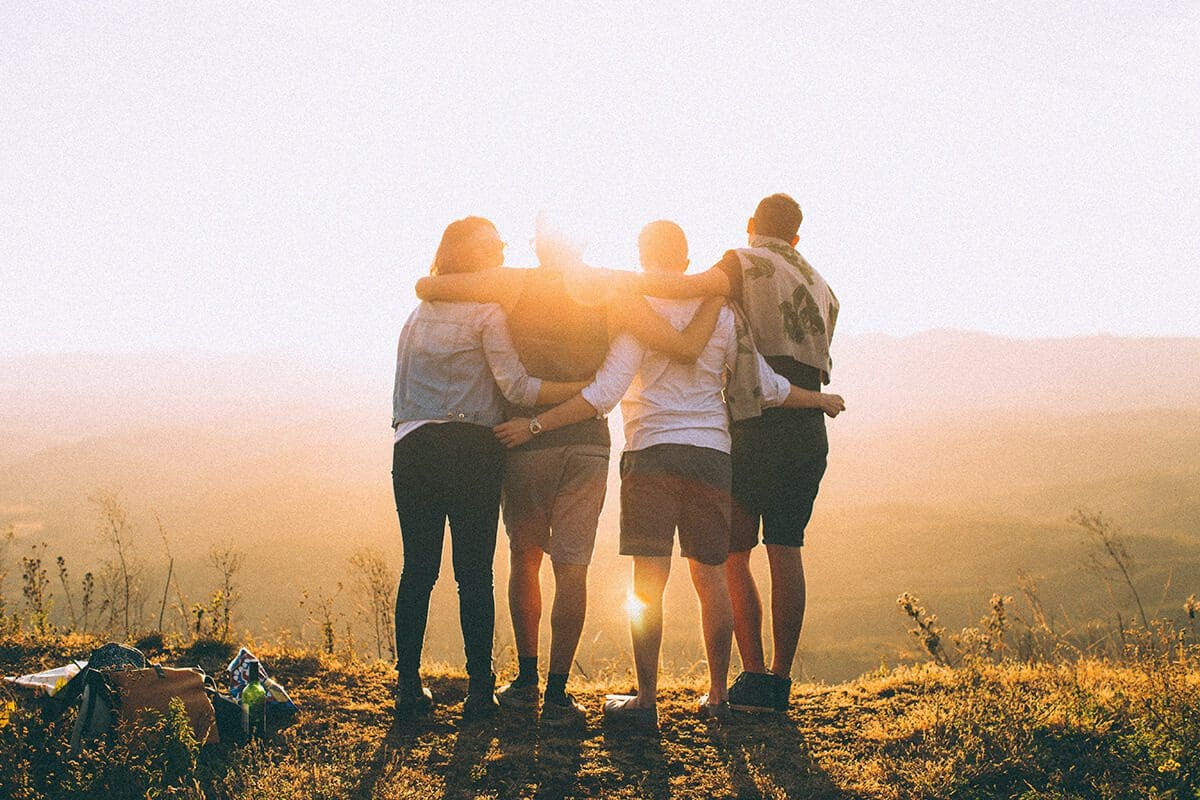 Find Support and Clarity in The Guidely Community
Need support navigating life's challenges? Want to take the next step in your personal development?
Become a member and gain access to a trove of exclusive resources and meaningful connections with coaches, teachers, authors, and the active community members to help you find the guidance, consultation, support, and tips you need to improve your mental health, relationships, career, emotional, and spiritual well-being, in order to grow yourself in every way.
What Is the Guidely Community?
You may know Guidely as the personal development platform backed by a worldwide network of carefully vetted mentors, life coaches, therapists, and personal development experts.
The Guidely Community expands on our existing services to offer additional guidance in the form of multiple weekly group sessions, live & recorded workshops, connections with other members through the App and much more.
No matter what life path you're on, you'll find premium content in the Guidely Community to help you find the perfect Mentor/Coach that you're looking for.
Whatever it is that you are in search of, we have a Guide for it.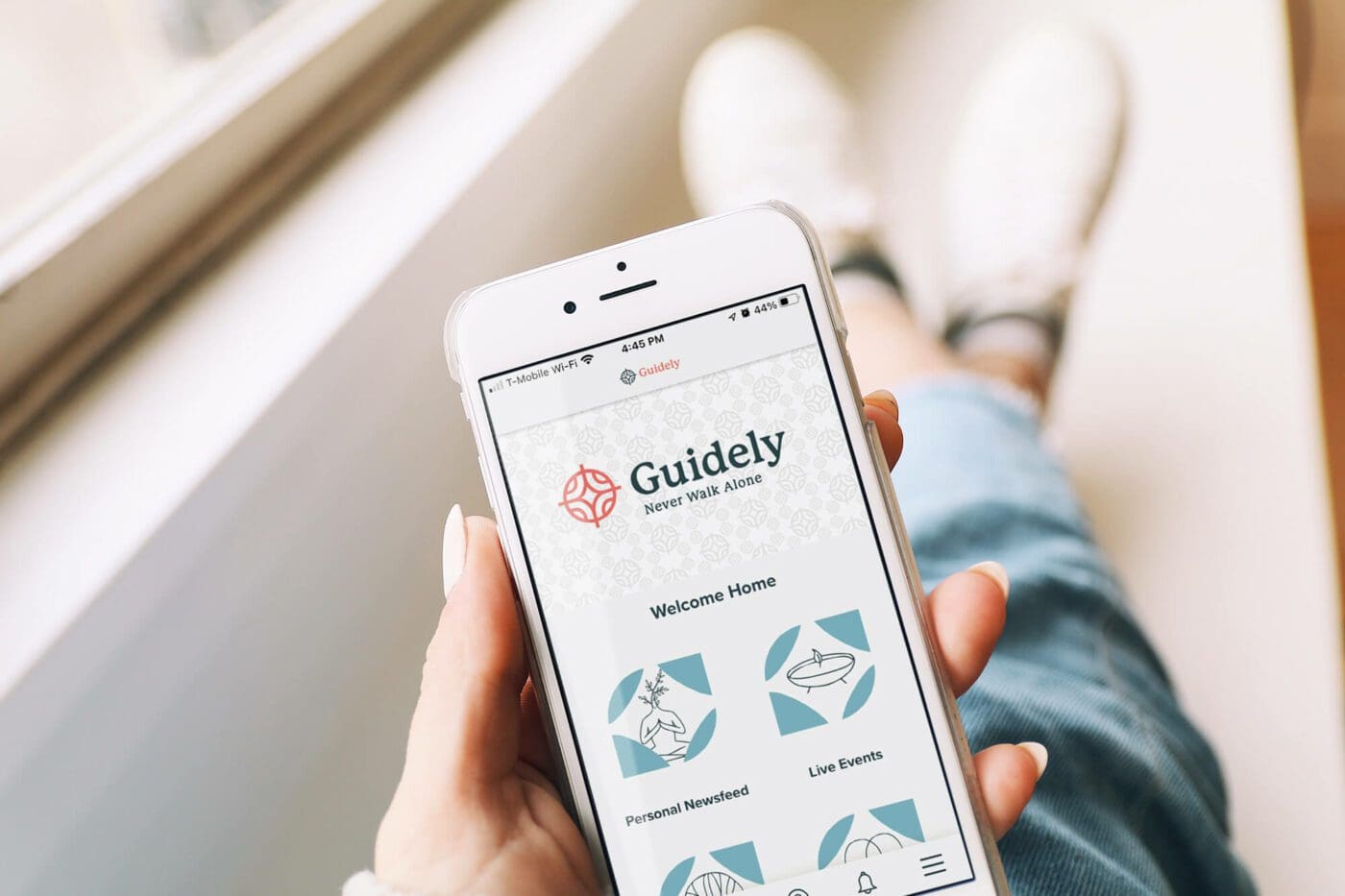 Here's What You'll Get When You Join the Free Guidely Community:
For starters you will receive FREE access to our enhanced Guidely community experience that includes:
Direct access to Guidely's team of industry-leading Guides.
Invitation to our monthly live events and complimentary access to the replays in the app.
An interactive Community Thread to connect with like-minded community.
Guide-facilitated groups on topics ranging from simplifying sleep, regulating your nervous system, learning to use your intuition, exploring the Course of Miracles and much more.
Access to our free concierge service to help you find the perfect Guide to support your unique healing journey.
Real-time connections and peer support with other members in our private community.
There's Even More in the Premium Guidely Community!
Weekly live group workshops
20% off of your first 1:1 or group experience
10% lifetime discount on 1:1 or group experience
Unlimited access to on-demand video workshops, trainings, and meditations
Premium content from our Guides, including books, PDFs and special sessions
Unlimited access to our premium 21-Day Reclaim Your Self virtual retreat
VIP access to live talks with thought leaders like Dr. Gabor Maté, a New York Times bestselling author on Compassion Inquiry. Harville Hendrix and Helen LaKelly Hunt who are internationally-respected couple's therapists, and New York Times bestselling authors. Julia Cameron, Internationally Best Selling Author, along with many other highly respected Teachers, Authors, Tedx Speakers, and Coaches.
Navigating the Guidely App
Let's start with letting you know what is in this App and walk you through some of the amazing features, events, and information.
Personal Newsfeed Section
A curated feed that features your connections, the groups you participate in, and updates from Guidely on workshops, events, new content & more!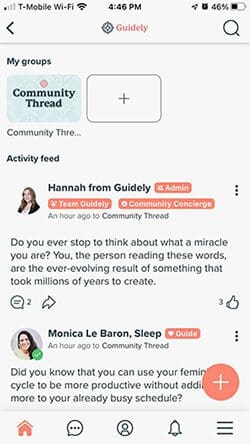 Community Thread Section
A place to share your thoughts, ask questions, find support, and get to know your community. This is an interactive space to introduce yourself to the community, connect with the Guides and fellow members, and stay up to date on community announcements.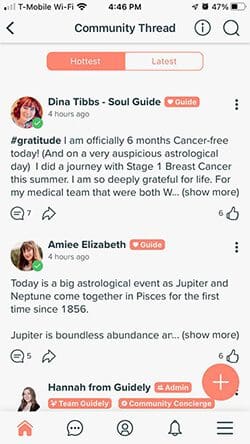 Meet The Guides Section
Regularly updated, this section is an introduction to the Guides that are active on Guidely Community. Find out what their specialties are in the "Explore Content" tab by watching videos of their interviews with our Chief Guidance Officer and Co-Founder Shannon Woodruff. If you want to work with a specific Guide, go to the Work Together tab which will take you straight to their scheduling page. It's effortless!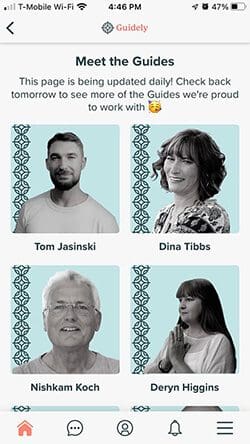 Live Events Section
The calendar is full of incredible opportunities to learn, connect and expand. Join the live virtual events hosted by Guidely verified Guides as they take you through a plethora of different modalities. This is a great place to meet your community face to face, ask questions, share your experiences, and expand your horizons. If you can't attend the event live, you can always watch the replay at a time that is more convenient for you.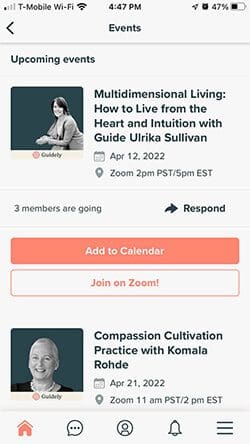 The Groups Section
What are you interested in? What do you want to learn more about? In this section you can explore different topics, join groups that interest you. All of the groups are facilitated by Guidely verified Guides.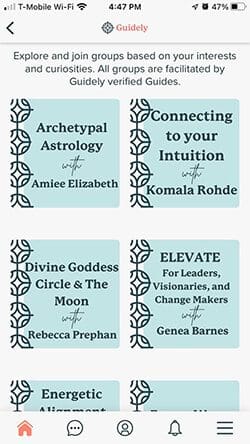 Content Library Section
Explore more blogs and videos curated to support you through a variety of topics ranging from Emotional Healing, Professional Development, Spiritual Discovery, Interpersonal Growth. We invite you to go through the 21 Day Reclaim Yourself Retreat section or the Guest Speaker Section and get inspired by workshops that shift and transform lives.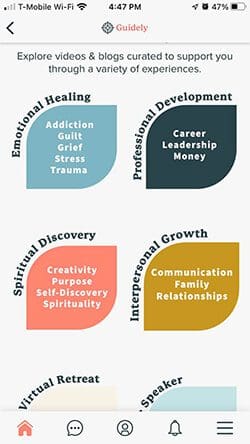 Navigation Bar
The navigation bar gives you easy access to the most valuable places in Guidely Community. You can quickly navigate back to the home page, direct message Guides and other members, view your own profile, check your notifications and open the expanded menu.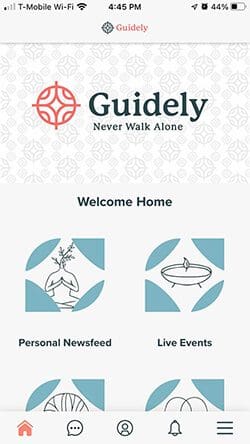 Signing up is simple, you can download the App directly from the App Store by clicking on Guidely Community or go online to Community.Guidely.com
Whether you're seeking your life's higher purpose, wanting to shift your career goals, or dealing with hardships like grief or trauma, you'll find the help you need to overcome challenges and achieve your goals in the Guidely Community App.
We encourage you to join us for our free weekly community events, and the meantime, we at Team Guidely look forward to seeing you there!
Take the Next Step in Your Personal Growth
Join the Guidely Community to gain access to a trove of personal development resources designed to help you navigate life's choppy waters and find more clarity and purpose in your life.
Download now for your 14-day free trial

Download the Guidely Community app, and get 50% off of your first month which includes our 14-day trial period. Then $29.99/monthly or $299.99/annually. Prefer to use your desktop computer? Visit the Guidely Community in your browser →